Chem Sources Ltd., Part is excited to share that we have recently received certification for Good Distribution Practice (GDP) from the Thai FDA. This certification is a significant milestone for us, demonstrating our commitment to providing high-quality storage and distribution services to both our international suppliers and local customers.

As an international supplier, you can trust Chem Sources to handle your products with the utmost care. Our facilities are equipped with advanced temperature control systems to ensure that your products are stored in optimal conditions. Our team of professionals adheres to strict quality control procedures, ensuring that your products are handled and delivered safely and efficiently.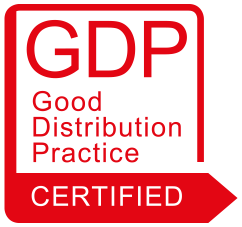 For our local customers, this certification represents our commitment to providing you with the best quality products available. You can be confident that the products you receive from us have been handled with the highest level of care and are safe for use.

At Chem Sources, we believe that our customers' satisfaction is our top priority. We strive to provide the best possible service, and our Good Distribution Practice (GDP) certification from the Thai FDA is a testament to our dedication to quality and excellence.

We welcome the opportunity to work with both our international suppliers and local customers to meet their needs. Contact us today to learn more about our services and how we can help you streamline your distribution operations in Thailand while ensuring the highest level of quality and safety for your products.